Barnett Blades
A Barnett Blade is unlike any other knife you will encounter today.  From the very design, to the steel, to the handles and custom engraving - everything is unique and hand worked.
For many years we have produced prototypes of knives, placed them into the market place and asked for feed back from our clients.  This is how we design knives that just 'feel right' to the owner.
Forging our own steel, making our own Damascus, and working custom handles are all a part of owning a Barnett Blade.
Although most knives are in stock and ready for shipment, there may be a 6-8 week delay for shipment. We will notify you of availability when you order.
Below you will find several of the more popular knives which we offer.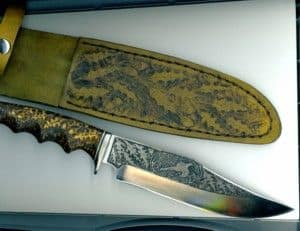 Hand engraved hunting knife with oak leaves and pheasant medallion
Hand engraved long hunter with maple leaves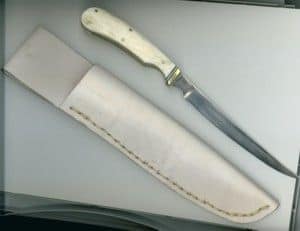 Filet knife with antler handle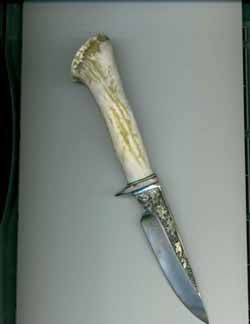 Hand engraved long hunter Horn handle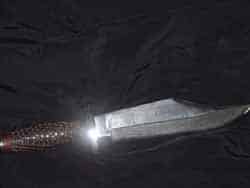 Bowie knife with hand forged Barnett damascus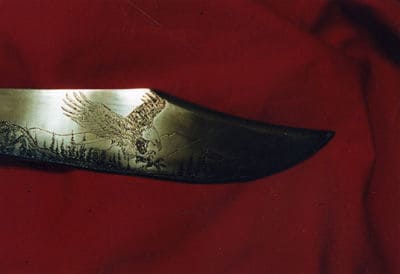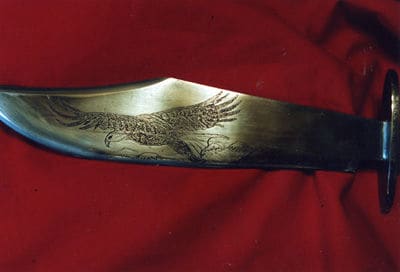 Bowie knife with hand engraved Eagle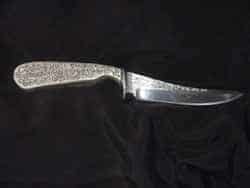 Knife and horn handle engraved in scroll relief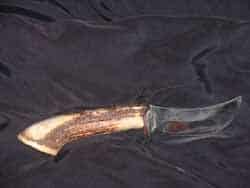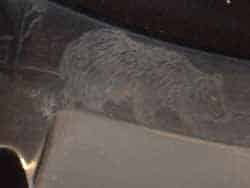 Horn handle hand engraved Skinner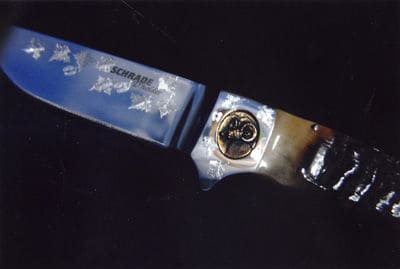 Custom maple leaf engraving on a customer's Schrade D'holder knife
Please feel free to contact us at any time concerning the
 creation of a custom Barnett Blade.  A Barnett Blade is an
 investment into a century old family tradition.
contact us at
Cutlers Cove Knife Emporium - Since 1991, specialist in vintage pocket knives, folders and fixed blades.
*AJH* Custom Knives and Services - Knife Repairs, Refurbishing, Sharpening - Custom Hand Made, Collectible Knives.
Master Index of knife making materials, suppliers- Exotic woods, skins, gems, metals and other materials used in knifemaking, Links index.